Oven Ace Professional Oven Cleaning | Dublin
Oven Ace is a Dublin based Oven Cleaning service provider. We clean domestic ovens with a 100% non-toxic, environmentally friendly oven cleaning system developed for over 20 years. We have no need to use your sink as all of our Oven Ace Mobile Oven Cleaning units are fully equipt for the toughest of Jobs. Best of all - you can use your cleaned oven as soon as we finish.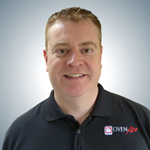 Hello, my name is Brian Farrelly. I am the owner of Oven Ace, a Dublin Based Oven Cleaning Company - offering a professional 100% non-toxic and environmentally friendly and non-corrosive oven cleaning solution. I offer a wide range of environmentally friendly cleaning solutions for domestic ovens, microwaves, hobs, extractor fan filters, BBQ's, racks, gas rings and other domestic oven related equipment.
I also specialise in the cleaning of domestic ovens in the commercial and educational sector and have cleaned a number of ovens for Dublin based Secondary Schools during school holidays.
No Fumes, No mess, No Fuss.
All our mobile oven cleaning units are self contained and fully equiped for the toughest of jobs. There is never a need to use your sink and all waste materials (grease, dirt, debris) are removed from your home and not flushed down your sink - this includes the waste water which is created when we clean your oven.

Thank you for visiting our website Oven.ie and if you have a moment please feel free to subscribe to our Oven Cleaning Promo newsletter or follow us on twitter.